ÏÎ-ÐÓÑÑÊÈ(WinRus)
Nice to meet you here!
Moving in depth through the pages and links below you will be able to reach
a lot of interesting and useful sources.
Oscar.com: The Official Academy Awards Site
3 Peaks in 36 Hours
TO YOU, LADIES
TO YOUR HEALTH!
Russian Bard Songs Festival.May 9-11,2008 Lake Vail,Riverside County,S.California
Russian Bard Songs Festival.May 16-18,2003 Lake Vail,Riverside County,S.California
Crimea Slide Show
Find an expedition to join in
Author's Picture
Author's Resume
Welcome To Los Angeles!
Guide To the Over 60 Cities In the United States
Get News. From The Library of Congress to Oscar, Vogue, FIFA & More...
Cool Russian and Ukrainian Sites
Ukraine and My Ukrainian Friends
World Virtual Tourist
Outdoor & Wilderness Trips...GO!...
Me in Caucasus
My Friends From Kiev In the Expedition To Mt.Elbrus
A Beauty Of Mt.Elbrus
An Expedition To Mt. Matterhorn(The Alps)
Unknown Grandeur Of Russian Mountains

27.09.2009  Happy International Tourism Day!

11.09.2009  9/11  We remember

09.09.2009  

27.06.2009  A date in the history: June 28, 300 years anniversary of the Poltava Battle

  The Battle of Poltava (or Pultowa) in June 28, 1709 (July 8, N.S.) was the decisive victory of Peter I
of Russia over Charles XII of Sweden in the most famous of the battles of the Great Northern War.
It is said to have started the end of Sweden's role as a Great Power and the Russians took their place
as the leading nation of northern Europe. This also meant the rise of Imperial Russia.
  The battle began before dawn at 3:45 a.m. in June 28, with the Swedes advancing boldly against
the Russian fortified lines. At first, the battle started off in a traditional fashion, with the better trained
Swedes pressing in on the Russians' redoubts, overrunning a few Russian defensive redoubts.
The Swedish seemed to possess an advantage, but this was quickly nullified. By dawn, the weather
was already very hot and humid with the rising sun obscured by smoke from cannon and musket fire.
  The Swedish infantry, commanded by General Lewenhaupt, attempted to attack the Russians. But
the Swedish advance soon faltered, partly because the infantry had been ordered to withdraw and
reorganise. To make matters worse, one Swedish detachment, commanded by General Roos, hadn't
been told about the overall plan and became isolated in the Russian defensive redoubts when a column
of about 4,000 Russian reinforcements reoccupied the fortified positions, trapping Roos and his
2,600-man force. With over 1,000 casualties and ammunition running low, Roos was forced to surrender
his command.      More>>


| | |
| --- | --- |
| | |
08.05.2009 Happy Victory in Europe Day!
05.01.2009 Happy International Workers' Day!
04.26.2009 The Chernobyl reactor accident in 1986. 23 years ago... 26 April 1986, 1:23:44: The reactor in unit no. 4 runs out of control and explodes.
GHOST TOWN>>
6 minutes long film "Chronicle of Severe Days". The last film of a film director and cameraman Vladimir Shevchenko.
"Chronicle of Severe Days"
Eine Chronik schwerwiegender Tage
by bernardvilt
Under the Chernobyl reactor #4
by bernardvilt 22.04.2009 Earth Day
Keep Clean and Safe! 04.12.2009 Happy Easter!
12.20.2008  U.S. President-elect Obama's Weekly Address

  Barack Obama introduced the team of men and women who will head up the nation's major
  scientific departments.

  Whether it's the science to slow global warming; the technology to protect our troops and
confront bioterror and weapons of mass destruction; the research to find life-saving cures;
or the innovations to remake our industries and create twenty-first century jobs - today,
  more than ever before, science holds the key to our survival as a planet and our security and
prosperity as a nation.
  It is time we once again put science at the top of our agenda and worked to restore America's
place as the world leader in science and technology.
The Lone Traveler: Around the World in 115 Days>>
&nbsp08.08.2008 XXIV Summer Olympic Games in Bejing started! All the best to the Team USA! 30 June, 2008 RussianClimb.com Dodo Kopold's great success! 15th of June, Dodo Kopold and Vlado Plulik (both Slovakia) summited Gasherbrum I. They managed it from the saddle between GI and GII in one push in 16 hours (up and down, north face). In 15 days from their arrival under the Gasherbrums they both climbed Gasherbrum I and Dodo climbed also the French pillar of Gasherbrum II (alpine style, the 9th of June, when Vlado finished some 300m under the summit). June, 26 Dodo summited Broad peak. The 25th Dodo Kopold and Vlado Plulik started from Broad Peak BC. They arrived 300m below the summit in the afternoon, had some rest there and returned to 7200m, where they had left some gear. In the morning Vlado continued the normal route and probably didn?t summit. Dodo continued up, through a new variation of the route, and reached the top at about 9 pm (the 26th). He said this was his hardest climb yet in Himalaya. Conditions were really bad. He had to bivouac at 8000 meters on descent, without gear or a tent. He is now in BC. Congratulations! 23.06.2008 Wayfare on Russia Today. Kabardino-Balkaria.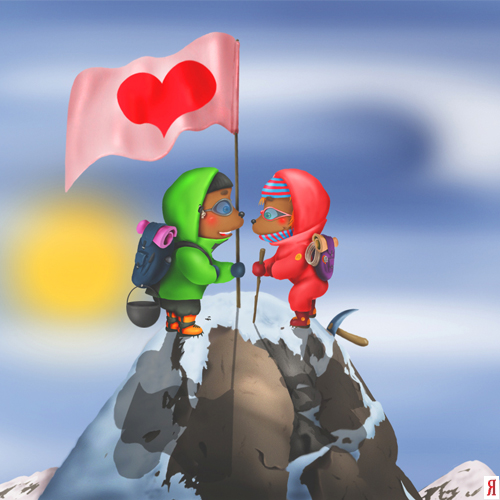 In Memory of Sir Edmund Hillary

&nbsp&nbsp&nbsp&nbsp
Feb 6, 2008 RussianClimb.com Competitions Elbrus speed climb (Elbrus Race) will take place on September, 15-17, 2008. 11.12.2007 Happy World Mountain Day! 01.11.2007 Fedor Konyukhov: Battle in the Doldrums Fedor and his Open 85 yacht "Trading Network Alye Parusa" is sailing across the Doldrums area in very unstable weather system with rapid gusts 35+ knots, heavy rain. The air is very thick and humid. The system is moving west bringing more S-S winds for Fedor. According to the forecast – Doldrums at this particular time are wide (500 miles). Sails handling is quite difficult as winds vary from 05 knots to gale force. Full Story>>






---
---
---
Thank you for your time and visit!


&nbsp&nbsp&nbsp&nbspTo Top
---
---
LinkShare-Get Your Share!



To the News Beginning&nbsp&nbsp&nbsp&nbsp To Top